Lake Shore Electric Utility Metering Transformer Cabinets are UL Listed and Utility Company Compliant. These CT Cabinets range from 800 Amps up to 4000 Amps and can be modified to included additional equipment if required. The standard CT Cabinet models provide a safe, convenient and standardized method to install, test and maintain the following equipment:
Current Transformers
Potential (Voltage) Transformers
Typically, services over 400 Amps are required to have a conforming enclosure to house Utility provided metering current transformers. The Lake Shore Electric Utility Metering Transformer Cabinet provides the solution.
more

PRODUCT FEATURES
---
UL 414 Listed
Utility Company Compliant (Please Call to Verify Specific Utilities)
100% Rated Copper Bus
Ampacity Range: 800 thru 4000A Available
Top or Bottom Entry / Exit
NEMA 1, 3R, & (3R Stainless Steel) Enclosures Available
Bus Bar Links are Standard 4" Width
Standardized Bus Bar Arrangement with Removable Center Link
For Use with Ring (Donut) or Bar Type Current Transformers
Standard Cabinets have Split, Hinged Doors with Removable Center Post
Show Images

Below are some examples of Lake Shore Electric Corporations' Utility Metering Transformer Cabinets. Click on the images to enlarge.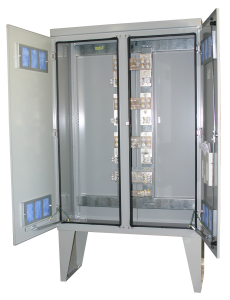 Utility Metering Transformer Cabinet with Legs

Inside View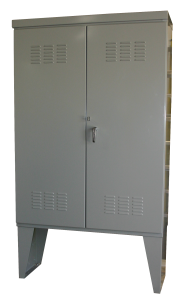 Utility Metering Transformer Cabinet with Legs

Outside View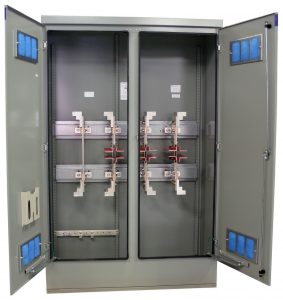 Utility Metering Transformer Cabinet

Inside View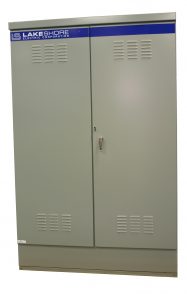 Utility Metering Transformer Cabinet

Outside View