Lake Shore Electric Corporation has been manufacturing Custom Electrical Switchboards & Panelboards since our inception in 1922. Our custom solutions can be designed to meet your specific electrical or dimensional requirements, as we make our own copper bus and customize our own sheet metal. From a simple breaker in a box to integrated power and distribution, we have a custom solution to meet your demanding standards. Our engineering team will design a product that keeps you on-budget and on-target for a smooth and convenient installation.
more

WE OFFER SOLUTIONS INCLUDING:
---
Rated through 10,000 Amps
Low, Medium & DC Voltages
Indoor or Outdoor Applications
Rear, Side or Front Accessibility
50-200kaic Rating
100% Fully Rated Copper Bus
UL 891
Main and Branch Circuit Breakers
Ground Fault Protection on Mains and Distribution Devices
Custom Communications Capabilities
Powder Coat Finishes
WE CAN INCORPORATE AUXILIARY SECTIONS TO INCLUDE:
---
Quick Connection Cabinets
Power Monitoring
Utility or Customer Metering
Surge Protection Devices
Transformers
Harmonic Mitigation and Power Factor Correction Devices
Custom Busways & Wiring for Ancillary Equipment Connectivity
Show Images

Below are some examples of Custom Electrical Switchboards. Click on the images to enlarge.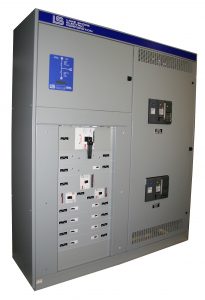 Transfer Switch with Custom Electrical Distribution Section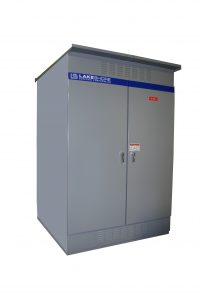 Exterior Front View of Custom Electrical Switchboard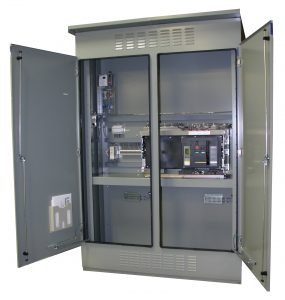 Interior Front View of Custom Electrical Switchboard without Dead Fronts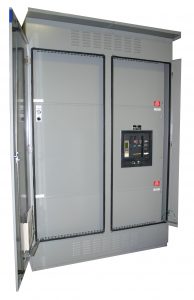 Interior Front View of Custom Electrical Switchboard with Dead Fronts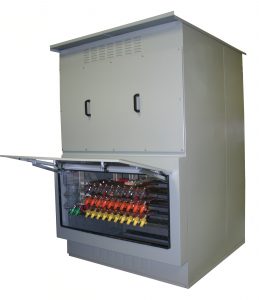 Exterior Rear View of Custom Electrical Switchboard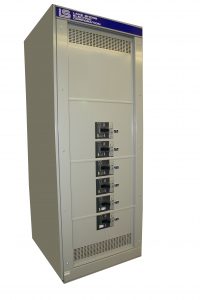 Exterior Rear View of Custom Electrical Switchboard